Meet the members of RTG ( Righteous Through God ) and their story….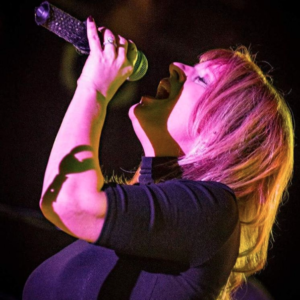 Peggy Turner-Carr, a Port Huron native, has been singing and performing professionally in Michigan since she was 15 years old. Her entire family was musical and she was able to warm her feet on stage with her brothers when she was 11. Her family was also active in their church music programs every weekend.
She began singing with a band called a Touch of Class and currently performs with the River Town Gents and the Christian group RTG. She has written music and lyrics for selections on the first RTG Power of You CD and continues to write new music for RTG's upcoming CD's
She has also performed with various bands such as Spectrum, Chapter III, the Tim Hewitt Band and the Blue Water Big Band just to name a few. She spent 10 years singing with Harry and Company at the St Clair Inn. One of her most memorable gigs involved her appearance as the opening act for Martha Reeves.
She has also performed solo for church services, funerals, weddings and benefit events.
She currently resides in Fenton where she continues to be active in community and church music.
Peggy's husband Mike is the sound tech and works with the band.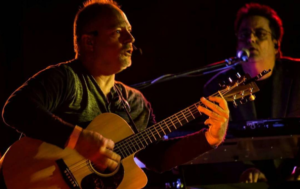 Dave Liniarski is a guitarist, vocalist, and songwriter. Dave began playing guitar at age 7. He was blessed with a musical family and started performing and singing professionally at age 14 with his father, mother, and brother for a cover band in southeast Michigan. At 14, he also began playing with an acoustic worship group for the Newman Center, a local college church center in Port Huron, MI. He met up with his long time school friend and keyboard player, Chris Ofeno, and began performing in local restaurants and events with the band Defiance and eventually, The Rivertown Gents.
In the early 1980's, Dave performed with Chris Ofeno on tour in Canada along with Mitch Ryder, Triumph, Steppenwolf, and MC5. Shortly thereafter, Dave became partners at a music store in his hometown, St. Clair, MI., and began teaching guitar lessons. After a few years, the business was sold and Dave continued performing solo gigs and traveling with his friends in the commercial band, The Rivertown Gents. Dave's love for music was always felt in the churches he attended with his family. He began playing with a worship team at Immanuel Lutheran Church, in St. Clair, MI, and eventually became the Worship Team Leader and Youth Group Leader. He now is the Music Ministry Director and still leads the worship teams on Sunday mornings.
In 2013, he helped form the Christian contemporary band, RTG (Righteous Through God), and began compiling all his lyrics and music together with fellow band members, Chris Ofeno and Peggy Turner Carr. In May of 2013, RTG performed their first original songs on stage with The Afters "Life is Beautiful" Tour.  In 2016, the band released their first CD, "Power of You".  Dave continues to perform and write music with the RTG band in Nashville, TN, at Full Circle Music.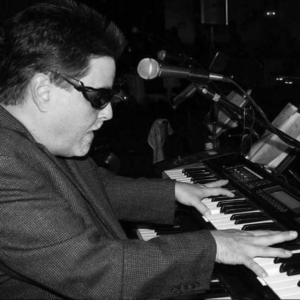 Chris Ofeno is a keyboardist/songwriter. Chris was born in Port Huron, Michigan and started playing keyboards professionally at the age of 15. In 1980, Chris joined the group Defiance which played locally in Southeastern Michigan and internationally. Defiance opened for bands including; Triumph, Mitch Ryder, Steppenwolf, and MC5. Defiance recorded several songs including, Baby I Love You and Travelin' Musician. In 1983, Chris and Dave Liniarski left Defiance and formed The Rivertown Gents, playing locally in Southeastern Michigan.
Chris left the Rivertown Gents in 1985 for a job opportunity with a communication company in Dallas, Texas. Chris's experiences included being the live sound engineer at the Crystal Ballroom and the Malachite Showroom at the now InterContinental City Hotel in Dallas, Texas. This lead Chris to become the audio communication manager. As manager, Chris handled and staged events that included celebrities like Bob Hope, James Brown, Diahann Carroll, Mary Wilson, Jack Jones, Jimmy Ray Vaughan and The Fabulous Thunderbirds, and Lee Greenwood. While in Dallas, Chris also recorded with New Rangers and The Divorce Boys.
In the early 1990's, Chris returned to his hometown and teamed back up with Dave Liniarski and The Rivertown Gents. The two along with Peggy Turner Carr continued to perform at venues throughout Michigan and the Midwest. Chris continued his songwriting throughout these years. As a keyboardist, Chris uses Korg triton workstation, Korg M1, and a Suzuki baby grand piano.
Chris began playing Contemporary Christian music with bands at St. Mary's Catholic Church and Immanuel Lutheran in St. Clair, Michigan in 2010. Chris's passion was leading him to a path of worship within his music. Through this passion, along with Dave and Peggy, they created Righteous Through God (RTG), a Contemporary Christian rock band in 2013. In 2014, the group added drummer Jeff Babbit and guitarist Joshua Mediate.  RTG released their first CD, "Power of You" in 2016.  They are currently writing, recording, and performing at churches, events, concerts, and conferences.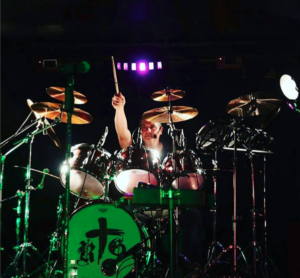 Jeff Babbitt was born in Mount Clemens and into a musical family. His dad played bass guitar, mother and one sister played keyboards, his brother played lead guitar and vocals, and his other sister played melody guitar and accordion. He knew he wanted to play drums at age 3 and began private lessons at age 6. His professional career began at age 7 when his family formed a group called 'The Babbitt Family' and was discovered by musical agent Dana Sullans. The band entered and won several competitions and performed several local shows including Cedar Point Sandusky Ohio.
Jeff has been associated with the American Guild of Music, The Michigan Music Association, and the International Music Association and has won several competitions including the Michigan Open Division Championship in 1986 and first runner-up in the North American Invitational Competition for drums. He has had several percussive instructors such as George Dunn and Mark Logsdon, but credits the late Terry Breeze for setting him on the path of percussive excellence. At the age of 17, Jeff was given the role of Percussion Section Leader for two orchestras which toured several European countries including Denmark, Norway, France, Germany, Finland, Sweden, Belgium, Luxembourg, and Netherlands in 1984 and 1985. He has made two albums with the First Michigan Colonial Fife and Drum Corp and has toured several eastern states performing concerts and parades. Jeff has also performed in several orchestra pits including Macomb Center for Performing Arts as well as with many community theater companies. Jeff was even flown out to El Paso Texas for a short tour with "Jack Tobit and the Polka Diamonds" along with members of the old Everly Brothers band. Along with playing for numerous bands throughout his musical career, Jeff also is an accomplished vocalist and has starred in several community theater musicals such as Joseph in "Joseph and the Amazing Technicolor Dreamcoat," Judus in "Jesus Christ Superstar," older Patrick in "Mame," Captain Von Trapp in "Sound of Music," and Prince Charming in "Into The Woods" just to name a few. Jeff's first Christian Contemporary group was with his brother David's praise and worship band called "David" after the psalmist in the Bible. He's been with RTG (Righteous Through God) since May 2014.
Jeff's drum kit consists of a 7-Piece Vintage Yamaha Cherry-wood Recording Custom Series set with all birch shells. The tom sizes are 10″, 12″, 13″ and 14″ with a 16″ standing floor tom. He has included a set of Remo Roto-Toms to add 6″, 8″ and 10″ toms. The drumheads consist mostly of Remo Clear Pinstripes except for the 7.5X14 snare which has a Remo Ambassador Coated head. He has been known to use a 5.5X14 inch steel Ludwig snare on certain recordings using a Remo Coated Pinstripe head. His 22 inch bass has an Aquarian Powerstroke 2 bass head. Jeff exclusively uses Paiste 2002 series cymbals starting with his 14″ Sound Edge Hi-Hats, 10″ and 12″ Splashes, 16," 17″ and 18″ Crashes, 20″ Heavy Ride, and his 18″ China. His hardware consists of the original Yamaha stands including his double bass pedal which have truly stood the test of time.
Join The RTG Band Mailing List